Looking For Something That Really Works To Get More Customers?
Your Custom ICE Key Tag Will:
Keep your business or brand in front of your customers, literally at their fingertips, 24/7
Give you more marketing reach, even if you are a small, local business
Make your mobile website or special offer available by your custom QR code
Make you stand out in your town or city as a community partner
AND, can protect your customer in the event of an accident
AND, can help your customer get lost keys back more quickly
Here is why the ICE Keytag Marketing System is so POWERFUL and UNIQUE!
1. You are providing an important protective service for your customers, clients and prospects. Because of this core component of the ICE KEYTAG protection system – your tag, with your advertising message, will always be with your target audience. Every time they pick up their keys, your business is there! The continuous marketing the tag does on your behalf, 24/7, and the ease with which your business can be referred with the tag – always there – is an incredible piece of marketing brilliance.
Note: Some merchants are confused on how the back of the tag works. The CUSTOMER will write their contact info and lost key info on the back of the tag. We do not do it, and the merchant does not do it. Click here to see a sample of the custom tag registration pages we create for each merchant so you can see what your customers will do (if you are still unclear about this).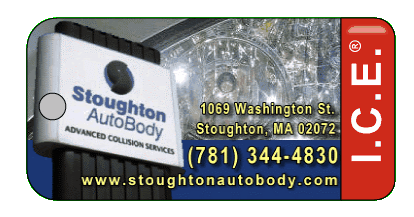 2. We advertise your tag for free on our national directory of ICE KEYTAG Merchants, allow you to post tagholder only deals, and clicking on the picture of your tag will take the viewer to your website! This is a no charge, value added service. Your tag will also be introduced to the world on our Facebook fan site.
3. QR Code Marketing. Your tag includes an optional QR code marketing feature, which allows you to provide additional dynamic marketing content to smartphone and iPad users. We also employ a dynamic QR coding system, which means you can have the content change without invalidating the code! This is huge! See what this incredible QR code marketing is all about – see our QR code primer in our Ultimate Customer Magnet eGuide. (below)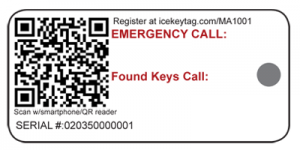 4. Your sponsorship of ICE KEYTAGS for distribution in your area makes you stand out as a community partner. How good would it feel is one of your company's ICE KEYTAGS helped someone get their keys back, or even helped to save a life? That would be priceless!
Putting the power of the ICE KEYTAG Merchant Program to work for you is simple, inexpensive….and might even cost you nothing! Before we get to pricing and ordering.
Use the tags as giveaways.
– You are in the CAR business, don't you want your customers to have your info with their CAR KEYS?. It keeps your business name very handy – always at the customer's fingertips. You are ALWAYS THERE when they need you! QR Codes allow fresh content to be uploaded to your clients/prospects on a regular basis! It is the perfect marketing piece!

Whichever way you choose to use the tags – the return on investment can be sky high. Unlike business cards, refrigerator magnets, and other promotional material, the ICE KEYTAG is out there working for you 24/7.
Questions? Call Bill at 508-203-1660
If you have not done so already – please download and review our "Ultimate Customer Magnet" eGuide below. It is packed with 36 pages of examples and ideas on how you can implement the ICE Keytag and our QR coding system into a great advantage over your competition. More importantly, it expounds on how it promotes customer loyalty – which translates to more money in your pocket.
Click on the guide cover for your FREE DOWNLOAD!