Do You Want More Business For Your Auto Repair Shop?
The 4 Proven Marketing Systems That Will Ensure 25% Growth Or More In Your Auto Repair Business This Year
Discover the "Secret Formula" that Successful Auto Repair Shops Use To Outperform their Competition.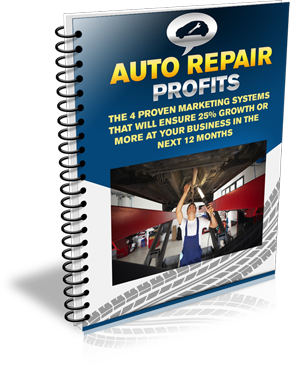 Listen to what some of our clients have to say...
"BLOWN AWAY! That's how I would describe the working relationship we've had with Bill since the inception of the website. BUT it didn't stop there, we have now moved way beyond with social media presence, Facebook, Yelp, Google reviews, Mobile friendly website… Can't wait to see what's next! Bill takes the time with every endeavor to explain in "English" what we are working together to accomplish. Thanks Bill"  – Tom Ricci, Body & Paint Center – Hudson, MA
"Bill has been a true professional that I have had the pleasure of dealing with for many years in the automotive business. Bill had brought to my attention that we were lacking in the marketing department and he has done a tremendous job getting our "face" out there. He has always been there to immediately answer any questions or concerns that I may have, as he always has during our business relationship. We have just started working with Bill a few months back and the work Bill has done has already worked for us. I am excited to see how much more Bill can help our business. If someone is looking for the "edge" in marketing, Bill is the person to look toward to get it done." - Jeff Lundgren, Highway Auto Body – Rockland, MA
"I've been in business for 35 years and was really behind on establishing a presence on the Internet. Bill, you have been and continue to be a great asset in my business. Thanks for all your hard work." - Bill Cavanaro, Cohasset Collision – Cohasset, MA
"We couldn't be more pleased with the service we have received from Bill. We have been in business since 1978 and never realized the impact that the Internet could provide. We thought everyone knew us. Not true. Once he designed our website, we started getting calls from several in-town and out-of-town customers who saw us "online". Bill did an excellent job for us, and what impressed us most, was that his service is truly top-notch. We are not 8-5 Monday-Friday people and we would often email him with a question on the weekends or later in the evening. No matter what day or time we contacted him, we got an answer almost immediately. I would highly recommend him for any of your Internet marketing needs—he's a true professional in every sense of the word." - Ed Nalewanski, Ed's Auto Body & Repair – Easthampton, MA
"Working with Bill on our website has been a great experience. Not only has he helped optimize our site for maximum Google exposure, but he has been instrumental in implementing an easy program for customer reviews. He is extremely professional and an absolute pleasure to do business with. Thanks for everything Bill!" – Molly Brodeur, Al Brodeur's Auto Body – Marlboro, MA
"Hiring Bill to help me with my website was the best business decision I could have made. He always makes himself available whenever I call for his help or even just to run an idea past him. We are already seeing an increase in traffic to our site and most importantly to our business. I'd be lost without his help" – Gary Cloutier, Cloot's Auto Body – Westfield, MA
"Since we started working with Bill to create our small business website and social media network, we've seen an increase in telephone inquiries, which ultimately leads to new customers. Bill's knowledge and attention to detail has paid off as we are currently listed at the top of the local search results for our most important search term" – Jeff Williams, Middlesex Auto Body – Natick, MA
"I attended a seminar that Bill was going to be speaking at because I heard "He is The Guy". I contacted Bill the following day and received his immediate response. He has lived up to EVERY promise that he has made and then some. Knowledgeable, efficient and very easy to communicate with are just some of the qualities that I have found in him. I would highly recommend him and would give 6 stars if it were an option!" – Russell Hamel, Hamel Bros Service – Lowell, MA
"WOW, What a difference Bill made with our auto body shop. The Internet marketing he set up really improved business. When I ask customers how they heard about us they mention the website and positive online reviews" – John Minucci, Minucci Auto Body – Ashland MA
Bill Enross
provides done-for-you Internet marketing services for auto repair professionals.